Description
This versatile lid is an excellent addition to concession stands and restaurants, fitting 12, 16, 20 and 24 oz. containers. Leak proof and shatter-resistant, this plastic lid is the perfect topper for to-go treats.
Our Promise: Offering premium quality products at an exceptional value is our ongoing commitment to you. Our goal is to ensure that this and every Member's Mark® product meets or exceeds your expectations for quality and performance. Your satisfaction is guaranteed every time you use a Member's Mark® product.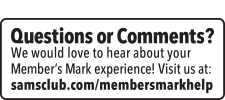 Secure & Safe Payments
Your payment information is processed securely. We do not store credit card details nor have access to your credit card information.